Few people remember who they are in their past life. But the essence of our soul remains the same.
In each reincarnation, it continues its journey of self-discovery. Over several lifetimes, people fall back into the same patterns and form the same habits. But, with soul work, they also break out from harmful cycles.
Someone who becomes self-aware will be able to identify these 'bad habits' and evolve for the better. Other times, the soul becomes complacent – too absorbed in the material life to grow spiritually.
This is what existential crises are made of. When you neglect soul work, you'll feel restless, hollow and unfulfilled for reasons you can't discern. You try to fill that void with other things – workaholism, alcoholism, materialism, all the -isms, really.
We don't necessarily seek the reason for being. My own thinking is that the highest peace one can achieve is in the acceptance of being. Of course, getting to this point is hard work.
Whether we like it or not, our soul carries forward a baggage of unresolved issues from previous lifetimes. It's up to ourselves to weed out these unresolved energies, and deal with them.
Exploring your past life through tarot
If you're interested in soul work, and working out what the underlying issues are in your life, a tarot reading can offer interesting insights. That said, I believe the tarot cards cannot tell you specifically who you were in your past life. But it can give you a gauge of what you were like, and how to move past those unresolved energies.
For a querent, I crafted a gentle Past Life Exploration Spread, and found it insightful in its simplicity: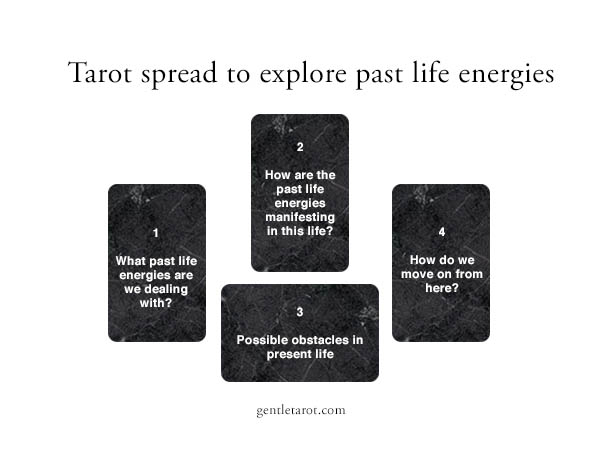 Card 1 – What past life energies are we dealing with? This card points to the unresolved issues the querent brings with her to her current lifetime.
Card 2 – How are the past life energies manifesting in this life? This card gives an insight to how or where the unresolved energies are playing a part in the querent's life.
Card 3 – Possible obstacles in present life. This card explores what is stopping the querent from resolving the energies successfully.
Card 4 – How do we move on from here? Suggestions on how to evolve positively and how to deal with these past life energies.
Past life exploration through astrology: South Nodes
Because I'm also an astrology buff, I highly recommend cross-referencing your (or your client's) birth chart to garner more clues on past life energies. For a start, look at the sign in the South Node (SN) in a birth chart to determine the characteristics of the soul baggage that has carried over to the present life.
For example, a person with a SN in Scorpio may rely heavily on Scorpio's antics of manipulation and mind games in this lifetime, to the detriment of her well-being. Once you understand a person's South Node, you can deepen your analysis from the Past Life Exploration Spread.
The North Node (NN) is also a fantastic reference to determine the characteristics you or your querent must cultivate in order to be your best self. NN is usually in the opposite star sign from the SN, so its qualities and characteristics usually feel alien and uncomfortable to the querent, which is why they are necessary for the soul to grow and evolve.
You can also discover the signs in your South and North Nodes without a birth chart here.
The North Node is the green light we should look to in order to move forward in our soul journey.
How are your past life energies affecting you today?
If you'd like to explore your past life energies, feel free to request a gentle tarot reading.
More perspectives on past life exploration:
1