We think we are the readers of our deck. But how often do the cards read you?
I heard that tarot readers can build rapport with their decks over time. It begins when you walk into the store to choose the deck. I didn't know this then, but the advice is to always go with the deck that calls to you… so maybe it's the deck that chooses you.
Choosing your deck is a magical moment. I was so young; fourteen and dumb. Picking up the cards was a surreal experience. I felt like such a rebel, lol. My schoolmates had these gorgeous, bright Tarot cards with cute drawings. They were super fun to read. Yet it was the Hudes deck I reached for. The cards were as melancholic as I felt.
So, years later. I've been trying to get better acquainted with my Hudes Tarot Deck. Supposedly the more time you spend with it, the more intuitive your readings become. So while the Hudes deck has been with me for well over a decade, I've remained filthy casual about my tarot hobby for a long time.
Quite frankly, I don't know my cards as well as I should.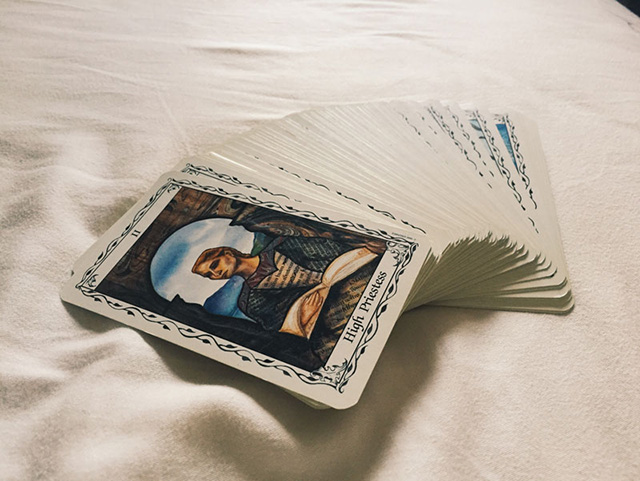 In my quest to understand the deck better, I've started journalling about it more often. I've come to realise some of the cards shown felt unfamiliar to me, even though they've been with me a long time. There are certain cards I'm more acquainted with—perhaps the Hermit or High Priestess—but several cards I can say with certainty I've never drawn in a reading.
In fact, I remember consciously thinking yesterday as I pored over the deck, "Hmm, I've never seen The Empress in a reading before."
So when I got home that evening, I made an effort to go through my deck, card by card, to get a feel of cards I may have never drawn. Including The Empress card.
I woke up this morning with images swimming in my head. An Empress and four Queens. What's the difference between an Empress and a Queen? my fuzzy brain asked. It was too early to know the answer, so I left the thought, with intentions to follow up on the question later.
Before leaving for work, I decided to shuffle my deck for a Card of the Day. You must know I'm terrible at shuffling. The cards have always been too big for my hands (not something I mind).
Two cards slipped out of the deck and hit the floor.
And what do you know. They happened to be The Empress and the Queen of Pentacles.
I screamed.
Well okay, no, I didn't. But I was pretty gobsmacked.
Did my Hudes Deck just read me?
It got even more interesting when I read up on the parallels between the two cards. Many tarot readers cannot tell the difference between the two, although I am convinced The Empress and the Queen of Pentacles, while alike in many ways, are wholly different characters. There is a depth to the Empress, despite her earthly riches. The Queen of Pentacles is focused on only the riches before her. But this is a whole other post.
Of course, these kind of pleasant coincidences—or less cynically, these occurrences—can happen to people who develop a close relationship with their cards. I, however, still feel like a student of my own deck in many ways.Next time you have a question for the universe, don't be surprised if your Tarot Deck answers it for you. Even if you haven't asked.
0